I'm building a full moon habit.
Every month, for the foreseeable future, I will start a conversation about art. These conversations will happen at ArtHouse6 (126 Walnut Street, Johnstown 15901) and by Zoom.
The first conversation will be on July 23, from 6.30-8 p.m. EST when we will derive through a troubling habit of mind often evident in galleries featuring art since 1900. "MY KID CAN DO THAT" is an uninformed assertion. When I hear someone say "MY KID CAN DO THAT", I think "HOW SILLY!" A cartoon recently published in the New Yorker (11/2/2020) hilariously illustrates the absurdity of this enduring habit of mind.
The lady on the right is saying: "My kid can do that." Her 'kid' is a Jackson Pollock homunculus, and everyone knows you can't smoke in a gallery. Hilarious!
On July 23, I will start with Pollock and other Abstract Expressionists, and then we will dabble in Dada, NeoPlasticism and Pop. Bring your stories about encounters with abstraction, eat cake and drink tea.
Yes, there will be cake. Specifically, there will be The Big Occassion Cake.
It has nuts in it. [NB: One dream for this full moon habit building experiment, is to invite Zoom participants to bake The Big Occassion Cake at home and eat a slice during the conversation. At the close of the evening we would hear from Zoom participants reporting on their experiences baking and plans to share the cake.]
There are three suggested ticket prices:
$7 for the Zoom link, or live at the gallery with tea;
$12 live at the gallery with tea and a slice of The Big Occassion Cake;
$21 live at the gallery with Prosecco and cake (Must be 21 years of age or older).
NOTAFLOF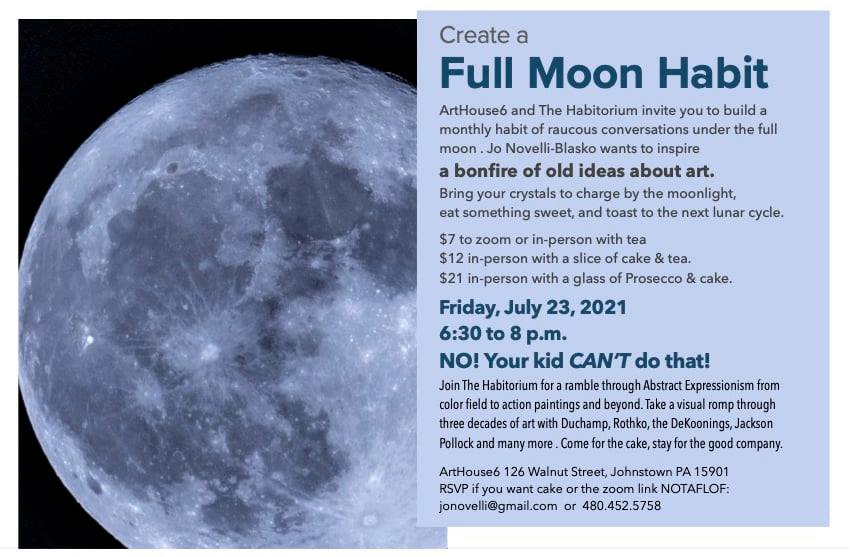 The idea of building this Full Moon Habit came from the Downtown Salon, a series of four conversations about Women Art and Activism (June 2021).