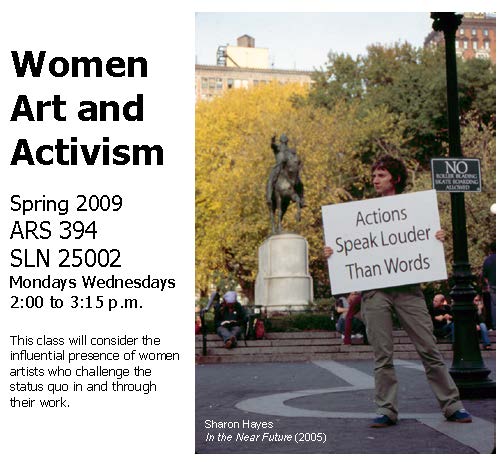 For this series of conversations, I'm looking back toward a class I taught at Arizona State University. Women Art and Activism was offered on the Tempe campus in the Spring of 2009. It was a seminar with lots of reading and only a handful of students. The Downtown Salon is an opportunity for me to re-think, out loud, about content from the course.
Participants will be offered a reading in advance of each meeting to provide a platform for thinking about the work we'll see. But the readings are entierly optional; being a part of the conversation does not rely on reading them.
Our gatherings will be loosley orgainzed around a theme. We will begin each meeting with a presentation of work and then open the floor for discussion. During the last 1/2 hour of our time together, we'll turn our attention to the aritsts and activists in the room. Of course, contributing your work to the conversation is also optional, no pressure to perform.
WOMEN ART AND ACTIVISM
June 7, 14, 21, 28
6-8 p.m. EST
This series of four talks will consider the influential presence of women artists who challenge the status quo in and through their work. Discover a range of art that expresses feminist actions explicitly or in attitude, demonstrating how women were actively in resistance through their creative work. The scope of our undertaking includes an array of art from painting and sculpture, to performance and film. Please be prepared to respectfully consider challenging (often explicit) art. Each talk will be followed by a group discussion about the work.
The Downtown Salon is a hybrid experience. It will be broadcast live and ZOOMed from ArtHouse6, an art gallery located at 126 Walnut Street. To participate in the conversation, register through the Community Education Program at Penn Highlands Community College.