Downtown Salon Four conversations about Women Art and Activism (June 2021), at ArtHouse6 and by ZOOM, Johnstown PA
The Survey of Cook Book Habitry (April to June 2021), at Classic Elements, Johnstown PA
My residency at On Chestnut gets a mention in PostIndustrial, a quarterly dedicated to the current state of affairs in the rustbelt. Read the article here: https://postindustrial.com/stories/poetry-of-place-and-space/
The Bedford Incident: Administrative Happening and Facilitated Conversation (February 27, 2021), at ArtHouse6 and by ZOOM, Johnstown PA .
The Survey of Bookish Habits (March to May 2020), at IAMB Gallery, Pittsburgh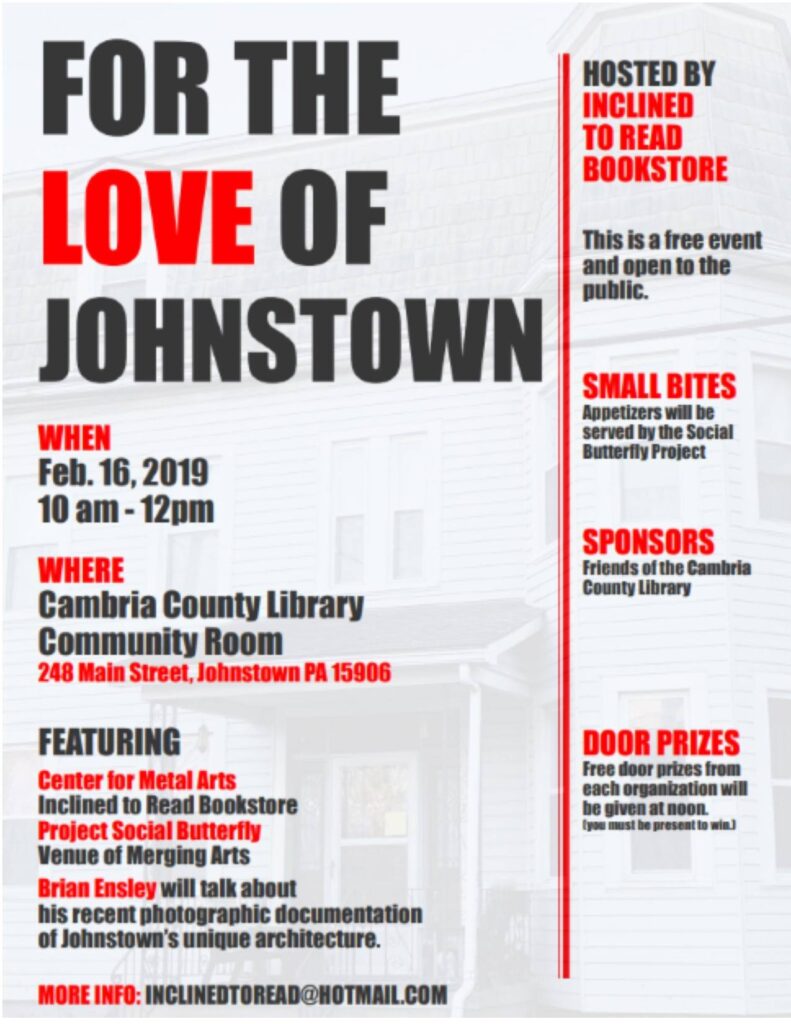 For the Love of Johnstown at Inclined to Read Bookstore, (2019) conversation, non-profit gathering
Survey of Johnstown Habitus, Venue of Merging Arts, Johnstown Ethnic Fest (2018)
performance surveying festival goers and mail art
(pre)Occupation Exhibition, The Hive (2014) curated exhibition featuring 13 artists working in a range of media: writing, performance, installation, furniture, painting, video, photography and bookbinding. (https://pattyblasko.wixsite.com/preoccupationtheshow)
(pre)Occupation Co-ed, TRIVIA Feminist Journal 2013
CRANKY FEMME: where cranky is less a mood and more an attitude (2003 to 2013) I maintained the Cranky Femme blog as a platform for writing about arts and culture.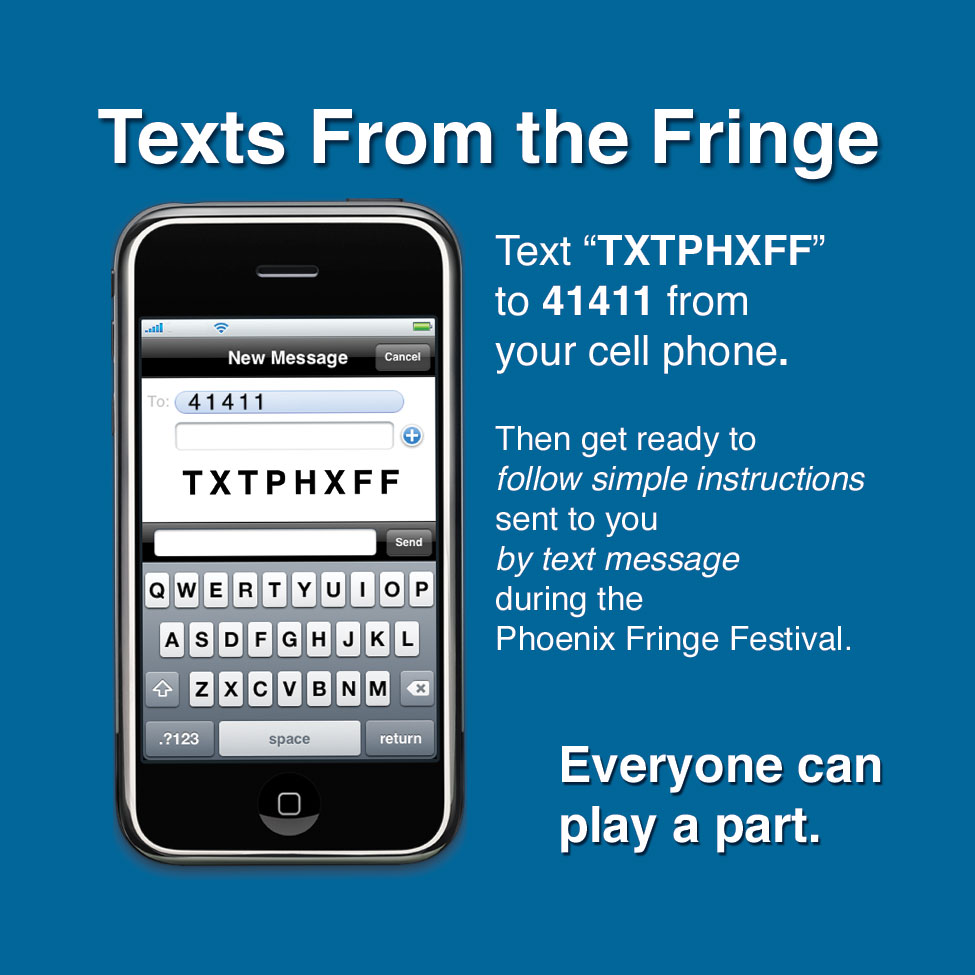 Text From The Fringe Phoenix Fringe Festival (2010) performance inviting festival audience members via text, to become actors and instigators in theater lobbies across town.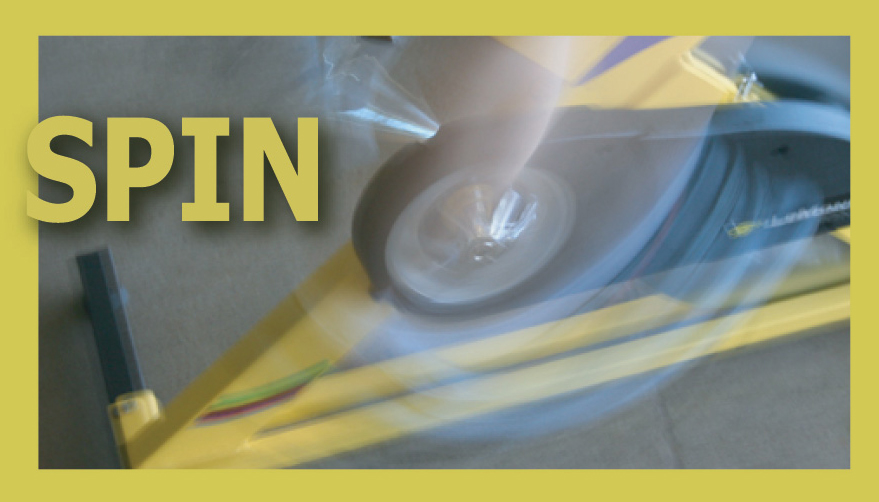 Spin YMCA, University of Arizona, and Dinnerware Contemporary Art Gallery, Tucson AZ (2007) performance, lecture and spin class to benefit BICAS. This performance was a series of lectures about the possibilities of personal narrative, emergent discourse and the rigor of the ride. I delivered each lecture while teaching a spin class. The profile of the ride was choreographed to the rhythm of songs I remember from 1982. I asked audience members to come dressed for a bike ride. There was an opportunity for conversation following the performance. The generosity of Foothills Revolution and their family of clients cannot be overestimated; without their support, I could not have learned how to speak and ride at the same time and, more importantly, be fit enough and inspired to try doing it! Thanks also to Dr. G.E. Washington, Dinnerware Contemporary Arts and the University of Arizona's School of Art for commissioning SPIN in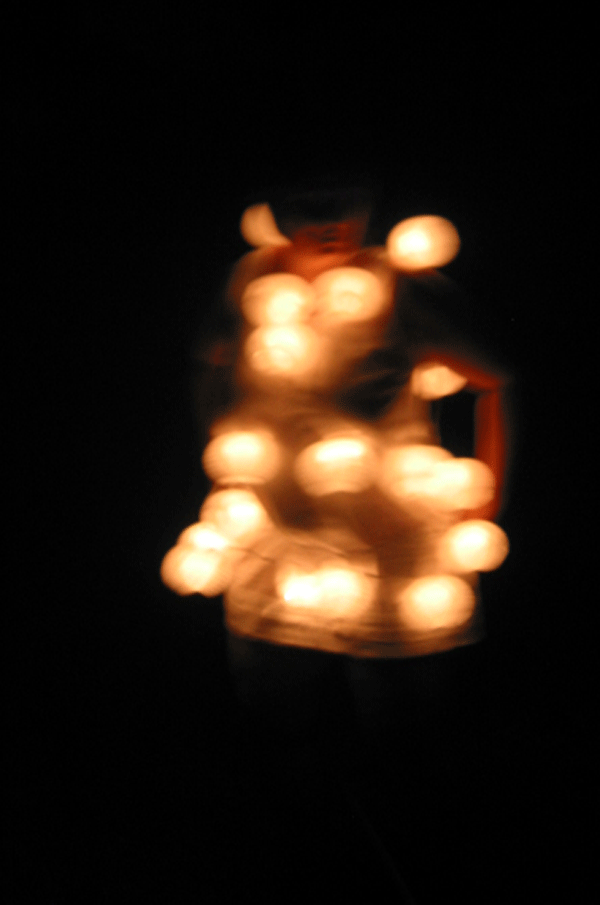 Fin Unplugged: Feminist Performance and Film Festival, Tucson (2007) performance conjuring stories with strangers, and mail art.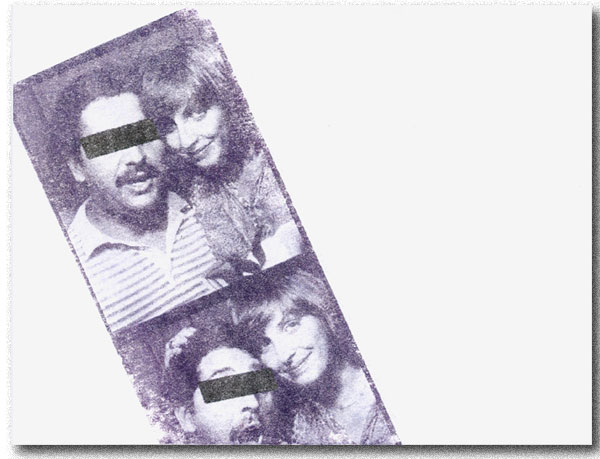 2 for 1 Phoenix, Johnstown (2006-2007) What started as a simple desire to loose 50 pounds in time for my 25th High School reunion developed into a year-long investigation into the meaning of weight, the nature of loss and the inevitiability of emergence. One year prior to the reunion, I began sending postcards to people from my graduating class and a small network of artists and friends. The postcards showed images from snapshots of me taken over the years. On the back, I wrote short stories from my life that aimed to complicate the careful conversations I expected to have over drinks at the reunion.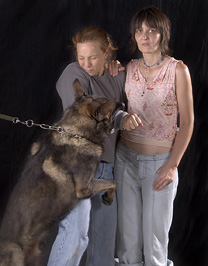 6 of 1 Grant Street Studios, Phoenix, (2004) performance in response to images from Abu Ghraib prison and staged on election night. Six of One was intended to engage a broad audience in an intimate exchange about violence and the images it generates. In Six of One, participants pose for a photograph with a person who is being bitten by a dog. The stage is set in three rooms which are visually but not audibly separated. In the first room the participant chooses a model and a dog. In the second room, a professional photographer takes a picture of the threesome and, in the third room, the participant retrieves their portrait. Art students were invited to take candid photographs of action in the studio. They submitted their work to a juried show judged by the artists of Six of One, and mounted in conjunction with a roundtable discussion about the performance. Six of One opened on Election night.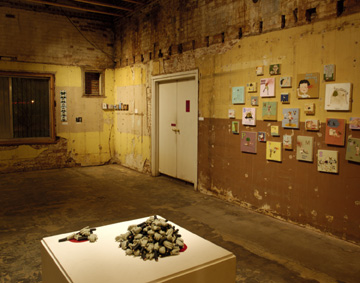 Elective Acts Grant Street Studios, Phoenix, (2004) Elective Acts was a 3-day curated exhibition by Sherrie Medina and Jo Novelli. It opened on Election night with live coverage of the polls results. There was a roundtable discussion between the artists and curators of the show with the public and a closing reception on the First Friday of November. The exhibition was located in an historic warehouse at 605 E. Grant St. in downtown Phoenix. Elective Acts emerged from a conversation about the importance of getting out to vote, the significance of choosing to participate in the electoral process, and the privilege of having that choice. This exhibition asks participants to think more carefully about their daily elective enactments, how they might be influenced by what they see around them, what they hear on television, which books they read and whose company they keep. Artists in the show included:
Colin Chillag, Liz Cohen, Cyndi Coon, Jon Haddock, Carrie Marrill, Ryan McNamara, Sherrie Medina, Heidi Neff, Jo Novelli, Gregory Sale, Steve Salik and David Young.
Elective Acts Grant Street Studios, Phoenix, (2004) co-curated exhibition of artists making work including painting, installation, performance, and more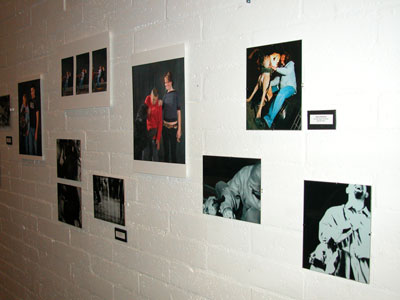 6 0f 1 Juried Student Show,
First Studio, Phoenix AZ (2004)
photography by high school and university students, documenting the 6 of 1 performance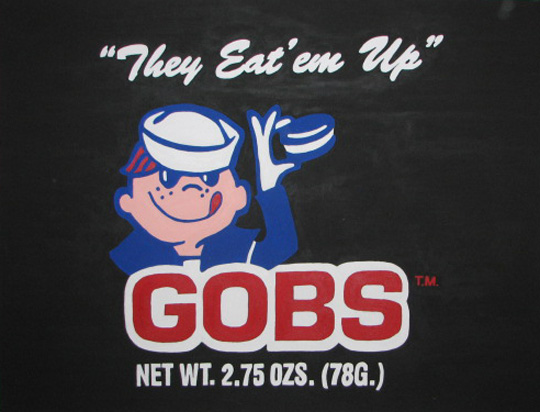 Home is Where the Gob Is…
NY, Berkeley, Phoenix (1996-2007)
This performance and video project explores the subtleties of comfort food in relation to body image and geography. A Gob is a chocolate snack cake with crème filling that is wrapped in cellophane with a sailor printed on the front. Gobs are made exclusively in my hometown at Dutch Maid Bakery. I've been eating Gobs all my life and, recently, I've been asking other people, friends and strangers alike, to indulge my nostalgia and eat a Gob while I video tape them doing it. As they eat, we talk about the cake's name, its flavor, the pleasures of hometown tastes and the shelf life of snack foods. Some participants reflected on childhood experiences while others revealed extensive details about their eating habits and health.